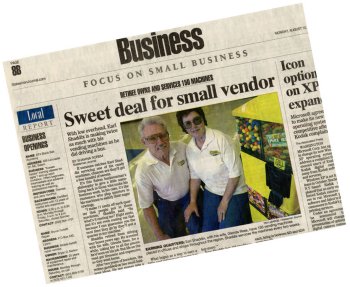 With low overhead, Earl Shaddix is making twice as much with his vending machines as he did driving a bus.
If someone catches Earl Shaddix servicing one of his candy machines, chances are they'll get a free handful of sweets.
It's this Salem businessman's philosophy to give a little something back to those who make his business work. In his case, it's the customers who plop quarters in his machines to satisfy their sugar cravings.
"I make 17 cents off each quarter that people put in those machines," Shaddix said. "So what's it costing me? Eight cents, and it's not even costing me that because I can guarantee you the next time they go by they'll put a quarter in my machine."
Shaddix retired from driving tour buses years ago. He traveled with his wife, Glenda Rees, for a while, taking her to all the places he'd been on his job. But life on the road got tiresome and expensive, so they went home.
After two years of boredom, the retiree gambled on two small business ideas. He put money into a balloon decorating business and loose candy vending machines. The balloons bombed, but the vending venture blossomed.
What began as a way to earn a little post-retirement income has become quite profitable for Shaddix. He works about 80 hours a month and makes more than twice what he did as a bus driver.
"My wife was leery at first," Shaddix said. "But after three months she looked at the books and she said, 'I think we should buy more.'"
Now Shaddix has 150 machines spread from Portland to Salem, and in small communities such as McMinnville, Newberg and Hillsboro. They are located in places such as manufacturing companies, tire stores, telemarketing companies, bingo parlors and retail outlets. His machines, which cost $700 each, brought in between $25 and $250 every month.
"This business affords a chance to make a good living and the time to do the other things I like to do," he said.
He peddles popular candy such as plain and peanut M&M's, Mike & Ike, Hot Tamales, Reeses Pieces and Skittles, as well as cashews and mixed nuts.
"Peanut M&Ms are by far the best sellers," he said. "They easily outsell any three varieties every month."
It only takes about 20 minutes to service each machine. "I can do about 30 a day," he said.
Shaddix, who donates 10 percent of his profits to the Boys & Girls Club, said it's the low overhead that makes his business so profitable.
"I work from home and drive around in my van," he said. "I don't have the high overhead that corporate America has."
He said his business is virtually trouble-free, except for the occasional vandalism.
His main frustration is the same lament of many small business owners: big business. About the only time he loses an account is when an establishment tells him they've signed a deal with a large vending company.
"I'm the little guy here," he said. "And I'm the one who's going into their businesses and buying their goods. That doesn't make any sense to me that they would do business with corporate America and not do business with me."
Still, Shaddix said he has as much work as he can handle, and there's plenty of room for growth in the area.
"I'm not going to be buying any more machines, because I don't want to work any more," he said. "I'm supposed to be retired. But this area could handle 350 more machines."
-Statesman Journal - August 13, 2001- Article written by Shawna Rorem